Salford sees tourism boost for seventh consecutive year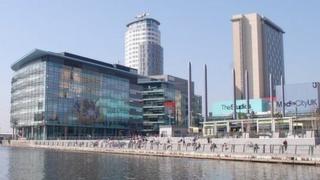 Tourists heading to Salford have increased for the seventh year in a row, according to visitor statistics.
Almost seven million people travelled to the city in 2011, visiting sites such as The Lowry, MediaCityUK, Salford Lads' Club and Ordsall Hall.
About £479m was spent by tourists - £20m up from the previous year.
Salford City Mayor Ian Stewart said the figures showed "how much Salford is changing and becoming a major tourist destination".
Overnight stays in Salford also increased by 7%, taking the number of hotel stays to 675,000. Jobs supported by tourism went up 4% to 6,000.
'World class attractions'
In 2011, Ordsall Hall re-opened after a two-year £6.5m restoration programme. The year also saw the city celebrate the 250th anniversary of the Bridgewater Canal.
Mayor Stewart said: "Local people already know how much Salford has to offer - now the rest of the country is discovering the city's huge attractions.
"Tourism is becoming a huge and vital part of Salford's economy, bringing visitors, spending power and jobs to the city, at a time of austerity. We have world class attractions in Salford - the numbers speak for themselves."
The figures were compiled by the Scarborough Tourism Economic Activity Monitor.