Man arrested after crossbow siege in Stretford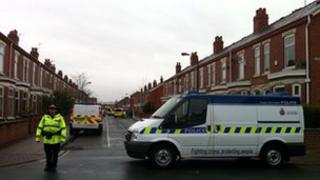 A man has been arrested after an armed siege at a house in Greater Manchester.
Police and social workers were called to North Lonsdale Street, Gorse Hill, at 20:30 GMT on Thursday, amid reports a man with a crossbow was inside.
The scene was cordoned off while police negotiators worked to bring the man out safely.
Police said a 31-year-old man has been arrested on suspicion of affray and threats to kill and remained in police custody.
It was not believed anyone was being held hostage.
Supt Simon Retford said: "First and foremost I would like to thank the community for their patience and understanding.
"This was an incident which required a highly sensitive response and it is inevitable that took some time.
"The man in question will get all of the support he needs and we continue to work with our partners to progress this."