Thousands gather for Manchester's St Patrick's Day parade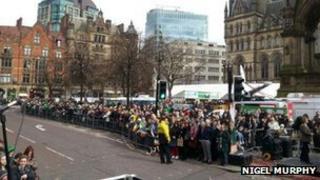 Up to a 100,000 people lined the streets of Manchester for its annual St Patrick's Day Parade.
The parade, along a three-mile circular route, is the highlight of the city's 10-day festival of Irish arts, culture, comedy and music.
The march started at the Irish World Heritage Centre on Irish Town Way in Irish Town, Cheetham Hill and headed to the Town Hall in Albert Square.
The procession then returned to the heritage centre.
Now in its 23rd year, the parade was followed by parties in Cheetham Hill, Chorlton, Fallowfield and Levenshulme and a special St Patrick's Day show at the Manchester Arena headlined by The Script.