Reward offered for parrot stolen in Oldham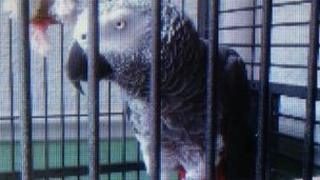 The family of a Greater Manchester man whose two parrots were stolen is offering a reward leading to the safe return of the outstanding bird.
The parrots were taken during a burglary at his house on Brierley Street, Oldham on 31 January.
One parrot was returned in February, but an African Grey is still missing.
The mother of the 41-year-old victim, who is autistic, is offering a £400 reward and said the theft has had "a negative effect" on her son.
Police believe the offenders climbed a roof before sneaking in through an upstairs window.
They stole a purse, jewellery box and the birds from bedrooms while the 41-year-old victim was in the living room.
Det Con Sam Blackwood said: "These parrots form an essential part of this man's life and help him cope with his condition.
"We hope this reward will encourage someone to come forward and help us find the parrot as soon as possible."