Manchester Starflyer will be 'new icon on skyline'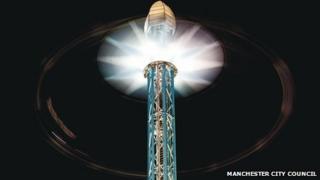 Manchester will get a "new icon on the skyline" with the installation of a high-flying fairground ride.
The Manchester Starflyer, which will be installed in Piccadilly Gardens, is a chair-flyer which rotates around the top of a 70m (230ft) tower.
The attraction, which will open on 29 March, was previously installed in London during the 2012 Olympics.
Councillor Pat Karney said the ride would attract thousands of people to the city.
The ride will be installed and run by events organisers The Mellors Group.
Richard Spurr, from the company, said the attraction would provide a "focal point to what is already a dynamic and enticing city".
A council spokesman said the ride "could attract up to 10,000 people per week to the city centre, generating an income at no cost to the council".
He added that the extra revenue would be split and "some will be reinvested into the Piccadilly Gardens area and support future events in the city".