Lee Erdmann pub shooting: 'Significant call' after Crimewatch appeal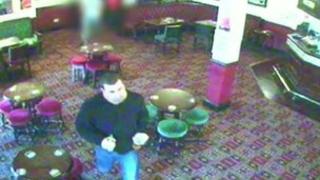 Greater Manchester Police received "positive leads" and a "significant call" following a TV appeal over the murder of a man in a Salford pub.
Lee Erdmann, 37, was shot in The Wellington pub on Regent Road, Ordsall, on 10 September 2011.
A reconstruction of the shooting and the events leading up to it was shown on BBC Crimewatch on Wednesday.
Police said the same name had been mentioned by several callers and asked that a female caller get back in touch.
Mr Erdmann was standing at the bar of the pub when a man he had been talking to shot him twice, despite there being no argument between them, police have said.
A reward of £50,000 has been offered for information leading to an arrest and conviction.
Hundreds of people have been interviewed as part of the investigation into the murder, but no-one has been charged.