Why Asian fans shun clubs like Oldham and Burnley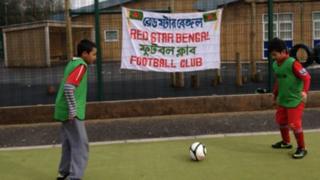 It is a freezing cold Sunday morning but that has not deterred the boys from Red Star Bengal from attending a football coaching session in Oldham.
The club was set up by members of the town's large Bangladeshi community in 1988 with the youngsters aged from seven to 14 and their dads passionate for "the beautiful game".
But that passion does not extend to their local club, Oldham Athletic.
Like other North West clubs outside the Premier League only about 1% of the home support comes from the town's Asian community, which makes up 20% of the local population.
It is a similar story in places like Burnley or Preston.
Interest in the game appears to be strong, dispelling myths that Asians neither like football nor play the game.
'Racism hangover'
At Red Star Bengal's, Riazuddin, 12 said: "It's fun and you play with your friends. I'm better at football than cricket."
His friend, 14-year-old Nazman, added: "I've been coming for a couple of years now. I like playing with the older boys, it makes me feel good and I enjoy the football."
Shelim Islam, who brings his son with him to the session every week, said: "I'm very passionate about football, whether I'm playing or watching.
"It makes you very tense, there's just a buzz around it."
But according to Idrees Ali, a coach with the Red Star Bengal, there are several reasons why Indians, Pakistanis and Bangladeshis do not go to matches at local clubs like Oldham.
"When you go back to the old days, there was a lot of issues around racism and I think some people still think an element of it still exists," he said.
"It is also expensive and a lot of our people work in restaurants and many are taxi drivers, so they have work commitments too."
A straw poll at Oldham's recent League One game against Hartlepool suggested there were no Asian fans in the 3,000 gate.
'Reflect community'
Club secretary Neil Joy believes this has less to do with racism than the presence of Premier League football in Manchester.
He said: "There are reasons why Asians don't come and one of them is that they are not used to going to football, although, a lot do support the Premier League clubs.
"Our fan base needs to reflect the community in which we operate, that is our ultimate objective."
Burnley's chief executive Lee Hoos believes in these cash-strapped times smaller clubs could have their revenue boosted by this untapped fan base.
"It is an important consideration, we need to engage with the community and we have started activities but we are in the early stages," he said.
"One of the suggestions that came to me was to take our staff to the mosque for diversity training.
"It's not about trying to get the community to come here, it's about us going out into the community."
Abdul Hamid, a member of Red Star Bengal, believes Oldham are doing a lot of good work with the community, but he has thrown out a challenge to the bosses who run the game.
"One day, when we have an Asian player at Latics, a lot of Asian people will flock to the club to support him."