Leigh school party rescued from snowbound Lake District centre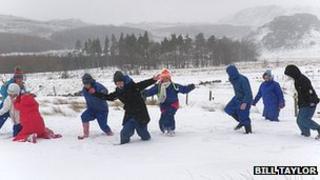 A school party from Greater Manchester has been rescued after being snowed in during a trip to the Lake District.
Three teachers and 24 children from Westleigh Methodist School were unable to leave Duddon Valley's Hinning House after heavy snow fell on Friday.
The centre's Bill Taylor had to trek to a nearby pub to call for help, as its landline was down due to the snow and the area has no mobile phone reception.
A snow plough reached them at 14:00 GMT, allowing the group to return home.
The party, which had been on a week-long stay at the centre, had attempted to leave on Friday, but had to turn back after finding the local roads were blocked with snow.
Mr Taylor, the centre's assistant head, walked to the pub in Seathwaite to report their plight and a snow plough was dispatched.
However, it broke down before reaching the centre on Friday afternoon, which meant the staff and pupils had to stay overnight in the centre.
A spokeswoman for the centre said the unexpected extra night had meant "there was no pudding [on] Friday night [but] to lift spirits, Bill bought everyone a Twix".
A second plough managed to reach the centre at about 14:00 GMT, clearing a path to allow the party to leave.
Ten-year-old Amy said for some of the children, it had been "quite fun but for others, it was a bit sad".
"I was quite sad because I missed my Olly Murs concert, which made me cry, but we had a disco, so that made me feel a bit better," she said.