ITV moves Granada studios to MediaCityUK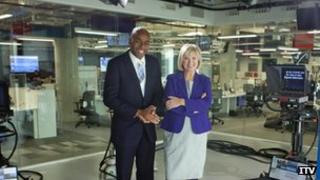 ITV has moved its Granada news studios in Quay Street, Manchester to MediaCityUK, Salford.
ITV's north west news programme Granada Reports has broadcast its first weekday lunchtime bulletin from the Orange Tower in Salford.
It is phase one of the migration to MediaCityUK.
The cobbles on the new Coronation Street set are still being laid on the site near the Imperial War Museum which it will move to later this year.
Granada has broadcast from its Quay Street studios since its inception in 1956, making it one of the oldest operating studios in the UK.
TV soap Coronation Street was first broadcast live there in 1960.
The move sees ITV join the BBC in Salford whose MediaCityUK offices were officially opened by the Queen in March 2012.
More than 2,300 BBC staff work at BBC North making programmes such as BBC Breakfast, Match of the Day and Blue Peter.