Manchester Cathedral's temporary church open for prayer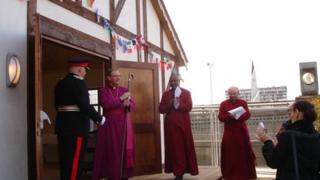 A temporary wooden church has opened in Manchester ahead of work to install a new heating system in the city's Anglican cathedral.
The Victoria Street structure on Victoria Street has been nicknamed the "pop-up" cathedral by some.
Most of the structure is made from lightweight wood but the floor comes from recycled decking.
Regular services will take place in the "church on the street" after Easter starting on 8 April until November.
The Very Rev Rogers Govender, Dean of Manchester said, "These developments are very welcome as they will attract people into the area and will also make the area look beautiful, especially as we move into spring and the coming holiday season.
"I would like to thank everyone for their efforts."