Royal Bolton Hospital: Deaths 'were not wrongly recorded'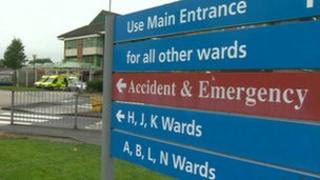 An independent review into high rates of blood infections at the Royal Bolton Hospital has found no evidence figures were deliberately manipulated.
The inquiry was launched after GPs raised concerns about the high number of cases of sepsis, which coincided with improvements in death rates.
Rates of the infection are recorded differently so that deaths caused by it do not affect hospital mortality rates.
The trust's boss, who had stepped aside, will now return to her post.
Acting chief executive Dr Jackie Bene had stepped aside after initial findings revealed "potential discrepancies" in data.
The review will now look at why the rates of infection were so high.
A total of 800 septicaemia cases were recorded at the hospital in a year - four times the expected rate for a hospital that size - the Dr Foster report found.
Review board chairman Kathy Doran said: "The members of the review panel are clear that there is no evidence that any coder or clinician within the trust has been deliberately directing coding either to seek financial gain or to unduly influence the various mortality ratios.
"The dedication, enthusiasm and commitment of all the staff interviewed at the hospital is impressive."