Jade Anderson death: No dog complaints recorded at Atherton house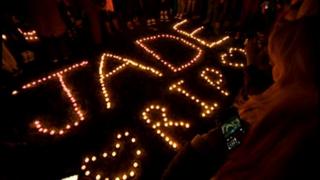 There was no record of any complaints about animals at the address where a girl died after being attacked by dogs, council officials said.
Jade Anderson, 14, was found alone with five dogs at a house she was visiting in Chaucer Grove, Atherton, Wigan, on Tuesday afternoon.
Wigan Council chief executive Donna Hall said the council was not aware of any animal issues at the property.
Police are investigating whether any criminal offences have been committed.
Jade's death has prompted MPs to call for for urgent reform of dog control laws.
Police are continuing inquiries to determine the particular breed of the dogs but said they initially appear to be legal.
Friends of the teenager released lanterns outside Fred Longworth High School in Tyldesley earlier.
About 200 people gathered for the vigil, which included the lighting of candles spelling "Jade RIP".
Head teacher Jan Garretts said staff and students were "all shocked and saddened by Jade's tragic death".
Speaking outside the school, friends described the 14-year-old as "a really nice girl who got on with everyone".
One said "she was always there for you if you needed a shoulder to cry on", while another said she "never had a bad bone inside of her".