Dog shot '17 times with airgun' in Standish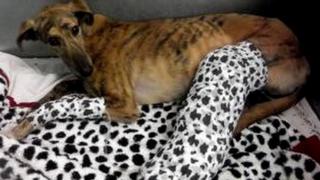 A dog was shot 17 times with an airgun in an attack which left it with a broken leg and a punctured lung in Greater Manchester, the RSPCA has said.
The one-year-old lurcher was found near Old Pepper Lane, Standish on Tuesday.
A dog walker spotted the animal after hearing its bark and then following a trail of blood in the snow.
RSPCA inspector Claire Roberts said the lurcher was "lucky to be alive". No owner or witnesses to the incident have come forward yet.
Inspector Roberts said: "I suspect he had been held or confined when being shot, because if a dog had been shot once or twice they would run away.
"The injuries were fresh when he was found, so they must have been inflicted some time at the start of the week."
The dog is now being cared for at a nearby veterinary surgery.