'Suspect package' closes Manchester Airport terminal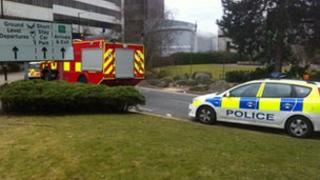 An airport terminal was closed and evacuated after a "suspect package" was found, airport officials confirmed.
A 100-metre security cordon was in place around Manchester Airport's Terminal 1. Police were told at 08:15 BST, with the terminal then closing.
Police said the security alert was now over, with the terminal fully reopening at 12:15 BST.
An airport spokesman said incoming and outgoing flights were currently continuing as normal.
Greater Manchester Police said the explosive ordnance disposal team were called "as a precaution".
Alexina Evans, from Walsall, is due to fly to Madeira from Manchester Airport.
She said: "I got to the airport, they started my check-in, my bag was on the belt and suddenly they said 'I'm sorry, you're going to have your bag back as we are being evacuated'.
"We were told to stand outside for a while - we were then advised to go to Terminal 3, which is where we have been stood now for two hours".