Manchester Airport 'bomb scare' caused by lens fluid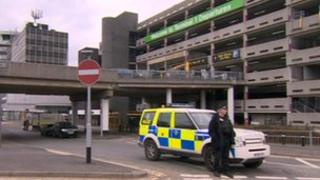 An airport terminal was evacuated for four hours after a bomb scare was triggered by a bottle of contact lens fluid.
Manchester Airport's Terminal 1 was closed on Monday morning when a baggage scanner revealed a suspicious image.
It was later found to be lens solution tightly packed with a mobile phone.
A Manchester Airport spokesman said about 10 flights were delayed because of the alert.
An airport spokesman said: "While the disruption was not welcome on a busy Easter weekend, we will never take a risk with passenger safety.
"Working closely with the police, Terminal 1 was evacuated and specialist officers were able to conduct further investigations."
The spokesman added: "We thank passengers for their patience while our staff were working hard to return the operation to its normal schedule."
Other areas of the airport were unaffected by the incident.