Chetham's child protection review finds failings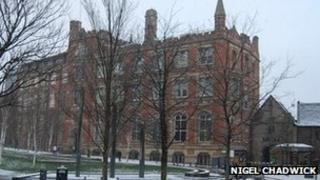 Inspectors have found failings in child protection safeguards at a Manchester music school at the centre of allegations of historical sexual abuse.
Police are investigating more than 20 complaints by former pupils of Chetham's School of Music.
Manchester City Council and the Independent Schools Inspectorate (ISI), called in to review policies, found standards were not being met fully.
Checks on some new staff had not been carried out, they found.
The review took place after former choirmaster Michael Brewer, 68, of Selly Oak, Birmingham, was convicted of abusing pupil Frances Andrade at the school in the 1970s and 1980s.
'Weaknesses' in policy
She took her own life soon after giving evidence against Brewer.
Following his conviction further allegations emerged relating to other former teachers.
Head teacher Clare Moreland previously sent a letter to parents, telling them inspectors had been invited into the school to "demonstrate that we have robust policies and procedures in place which are applied routinely and rigorously".
However, the ISI said it found weaknesses in protection policies which needed to be addressed.
Two staff from overseas were not checked for months after starting work, another had not had a criminal records check and in several cases qualifications had not been verified, the report found.
The review concluded staff were not clear on what to do if allegations are made, and appropriate measures were not always taken to safeguard pupils who get home tuition.
However, the ISI found that most pupils feel happy, safe and secure.
'Cause for concern'
The council's inspectors found procedures for reporting abuse allegations were unclear and said they were "not confident about the overall effectiveness of the leadership and governance of safeguarding arrangements in the school".
They said: "The local authority saw little evidence that the governing body/school committee have sufficiently held the senior leaders of the school to account regarding providing assurances that the current arrangements for safeguarding are actually being implemented.
"In the context of recent convictions, allegations and ongoing police investigations, where extra assurances would be expected, this is a cause for concern."
Mike Livingstone, the council's director of children's services, said: "We have shared our conclusions with the school, the ISI, Ofsted, and the DfE (Department for Education).
"Should the school request further advice from us, we will be making them aware of the help and support available to assist them in urgently addressing the issues raised."