Remembering Martha Hogg, Wigan's first female councillor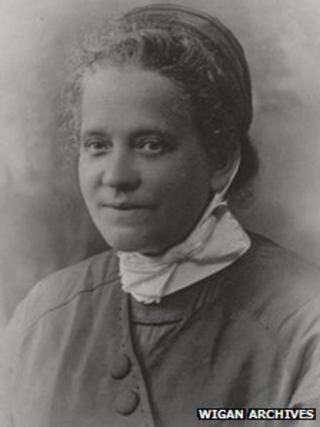 Martha Chadwick Hogg was one of the greatest figures to hail from Wigan or, given the circumstances, from anywhere in the country.
Yet, very sadly, she has largely been forgotten and I confess I only learned of her by chance, stumbling on her grave when visiting Wigan Cemetery.
I was moved to know more and the more I discovered, the more I have been impressed by this very formidable woman, whose life is to be commemorated with a plaque to be unveiled in Wigan Town Hall.
She can fairly rank with the likes of Countess Markievicz, the first women to be elected to the House of Commons, and Nancy Astor, the first women to take her seat in the chamber.
Without wishing to undermine their commitment to suffrage, they both came from privilege, while Martha was born into poverty in 1872, leaving school at 13 to work in a cotton factory like her parents.
On marrying William Hogg in August 1891, she was forced to leave her job, as many women were impelled to do, simply because she had married.
It was this type of unfairness that drove Martha to train to be a midwife, qualifying in 1912, a remarkable achievement for someone who left school without qualifications.
It was this work, seeing the terrible living conditions and poverty, that drove her to politics and the Labour Party.
No token woman
She was involved with local politics throughout World War I, sitting on several committees regarding health issues as a representative of the Guild of Midwives.
She first stood for public office in the election of 1919, when she contested Lindsey ward for Labour, losing to the Conservative candidate by only 92 votes.
Martha was a fighter and, undeterred by her defeat, stood for the ward again in 1920.
This time, she won the seat with a majority of 119 and became the first woman councillor in the town, one of only a handful to hold such a post across the country.
Martha's victory provided Wigan with another first - Labour became the largest party on Wigan Council for the first time, so setting in train the party's dominance on the council that has lasted until the present day.
Martha was not to be a token woman by any means and made her voice heard on subjects including pensions for the blind and ex-servicemen and the plight of the mothers she cared for.
'Great distinction'
She went on to play a notable role on many committees and was so well thought of that she was appointed as the first female member of the Watch Committee - the local police authority of the time - in 1929, a rare and much sought after honour for any councillor.
In February 1931, she was appointed as a magistrate and, while not the first woman, she was one of only a few and served with great distinction until her death in 1934.
Her funeral brought Wigan to a standstill, such was the esteem in which she was held.
Her coffin was carried into church by police constables, there were hundreds of floral tributes and the minister paid generous tribute to her in his address.
He spoke of her piety and the work she had done, especially among the women of the town, and said that the work would not cease with her death, as she had left a blueprint.
Her achievements and courage will be rightly commemorated with the plaque.
My wife joked recently that there were three people in our marriage - herself, me and Martha Hogg.
Hopefully, success in the endeavours to have her life suitably marked will give me the chance be able to say goodnight and God bless to Martha.