Protest over plans to build on 100-year-old Arcadia roller rink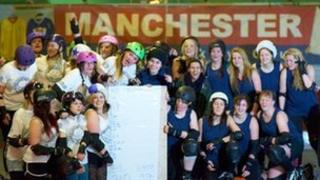 Roller-skating fans in Manchester are calling for plans to build on the site of a 100-year-old roller rink to be dropped.
The Arcadia is the preferred site for a new multimillion-pound leisure centre in Levenshulme which will include a pool, gym and library.
The plans will be considered by Manchester City Council on Wednesday.
A council spokesperson said they would work with Arcadia users to find them alternative facilities.
Council officers considered three sites for the new leisure centre and recommended the Arcadia site on Yew Tree Avenue as the preferred location due to its size.
The new leisure centre in Levenshulme would replace existing buildings which they claim are "outdated and expensive to run."
'Devastated'
However, users of the Arcadia said they were disappointed by the council's proposal.
Alex Valentine, captain of the women's Arcadia roller derby team said: "It's like a second home to us. We are devastated by the news.
"The Arcadia is an historic building and part of Manchester, we just urge the council to preserve it as it is."
The venue is home to the Arcadia roller hockey team, Arcadia Roller Derby, football, Gaelic football, Zumba and other activities.
The centre is also due to host the International Roller Hockey Tournament on 13 and 14 April which includes teams from Brazil, Spain and Italy.
An online petition has been launched calling on the council to "look for alternative sites for their development and leave the Arcadia alone".
The proposal to build on the Arcadia site is part of the authority's plans to address a £80m funding gap over the next two years, which they claim is the biggest cut of any of England's core cities.
If approved, building work is likely to begin in the autumn.