Jade Anderson death: No prosecution over dog attack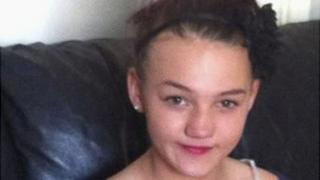 No prosecutions are being sought "at this stage" over the death of a teenager attacked by dogs in a Greater Manchester house, police have said.
Jade Anderson, 14, was found alone with five dogs at a house she was visiting in Chaucer Grove, Atherton, Wigan, on 26 March.
Police investigating the death said there was no evidence to prove a crime has been committed.
Police said enquiries are ongoing so it was not ruling out future prosecutions.
'Out of control'
Greater Manchester Police said in a statement: "At this stage of the enquiry, we do not have anything evidentially to categorically prove a crime has been committed, therefore it is unlikely at this stage we will be seeking to bring a prosecution.
"That is not to say that no prosecution will ever be brought and we still have a number of inquiries to make."
Friends of the teenager released lanterns in her honour outside her school, Fred Longworth High School, in Tyldesley the day after she was attacked by what police described as "aggressive and out of control" dogs.
About 200 people gathered for the vigil, which included the lighting of candles spelling "Jade RIP".
Armed officers destroyed four dogs believed to be two bull mastiffs and two Staffordshire bull terriers from the house where Jade's body was found.
A fifth dog was contained at the house and not destroyed.
Wigan Council said there was no record of any complaints about animals at the address.
Jade's death has prompted MPs to call for for urgent reform of dog control laws.