Wigan's first female councillor Martha Hogg celebrated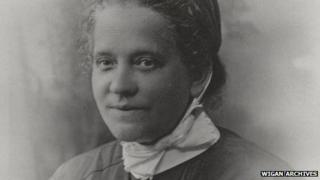 A plaque commemorating the life of Wigan's first female councillor has been unveiled in the town.
Martha Hogg was elected to the town's council in 1920, becoming one of only a few women in public office at the time.
She was born into poverty in 1872 and left school at 13 but later trained to be a midwife and also served as a magistrate after joining the council.
Councillor Myra Whiteside, who unveiled the plaque in Wigan Town Hall, said Martha was "a true trailblazer".
A council spokesman said Mrs Hogg had been "largely forgotten" and would have remained that way but for the work of local history enthusiast Thomas Walsh.
Mr Walsh began researching the former councillor's life after "stumbling on her grave when visiting Wigan Cemetery" three years ago.
'Pioneering career'
He said he had discovered a "very formidable woman [who was] one of the greatest figures to hail from Wigan, or given the circumstances, from anywhere in the country".
"There were very few women involved in politics when she was elected and most of them were drawn from the aristocracy or the better-off middle-classes," he said.
"Martha was a working woman who was so moved by her experiences as a midwife, she decided to go into politics to do something about it.
"When she died, Wigan came to a standstill to recognise her contribution, yet there has been no lasting memorial to her [so] it's fantastic this is now being put right."
Ms Whiteside said Mrs Hogg had "had a deep social conscience and a strong commitment to helping the poor and that's what drove her pioneering political career".
She said it was "a matter of regret it has taken so long for her to get the recognition she so richly deserves."