'Tough ask' to replace axed Maytree Travel buses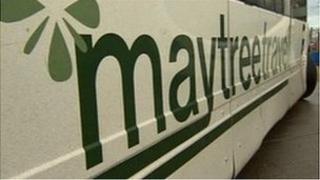 Replacing 40 bus services withdrawn due to "insurmountable" problems will be very difficult, Transport for Greater Manchester (TfGM) has said.
Manchester Community Transport (MCT) stopped all Maytree Travel services in Bolton and Wigan on Thursday afternoon.
A TfGM spokesperson said it was going to be a "tough ask" for other bus companies to fill the gaps in service.
MCT, which took over Maytree last month, issued no comment on the reason for its actions.
Susan Wildman, communication and customer services director with TfGM, said tenders closed for the replacement services at 13:00 BST on Thursday.
TfGM is looking for operators to take on board routes which are less profitable because they serve outlying areas or run at less popular times. The authority pays a subsidy to the operators.
She said there would be no services over the weekend but the transport authority was working to ensure that school bus services affected by Maytree's action would operate on Monday in time for the new school term.
'Really bad news'
"We will do our best to get as many of those other 40 services back," she said.
But she added: "It will be very difficult because clearly we are asking them [existing bus operators] to do something at very short notice and the other problem is that 40 is a lot of services.
"For any of our existing operators to be able to come forward and say 'no problem I've got loads of spare buses and loads of spare drivers' - that's a really tough ask."
Councillor David Molyneux, deputy leader (Labour) of Wigan Council, said: "This is really bad news for people in Wigan Borough who rely on the services this company provided.
"Unfortunately, journeys are likely to be disrupted for at least a few days."
He added that the council was working closely with TfGM to find a solution.