Axed Maytree Travel buses set to be restored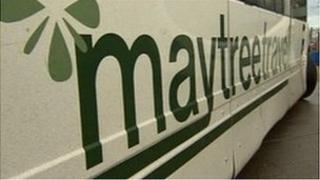 Nearly all of the 40 services withdrawn by a bus firm have been replaced, Transport for Greater Manchester (TfGM) has said.
Manchester Community Transport (MCT) stopped all Maytree Travel services in Bolton and Wigan on Thursday afternoon without giving any reason.
TfGM said all school bus services formerly run by Maytree will start after the weekend
MCT, which took over Maytree last month, was not available for comment.
Susan Wildman, communication and customer services director with TfGM, said: "We think we have been able to find replacement operators for very much all of the services that Maytree used to run."
She added: "The picture is looking a lot better than it did yesterday."
Tenders closed for the replacement services at 13:00 BST on Thursday with TfGM looking for operators to take on board routes which are less profitable because they serve outlying areas or run at less popular times. The authority pays a subsidy to the operators.
In some cases, certain journeys at less profitable times of the day may be subsidised on a particular route, rather than the whole service.
School bus services had been under threat for children returning to school on Monday and Tuesday after the Easter break but Ms Wildman said all services were now covered.
"The good news is that most of the other journeys have been covered as well - we hope to some in Leigh may be in place as early as the afternoon, others will come on board on Sunday and Monday," she added.
Maytree staff have said they have no idea what will happen to their jobs.