Paul Jewitt jailed for assault on three-month-old baby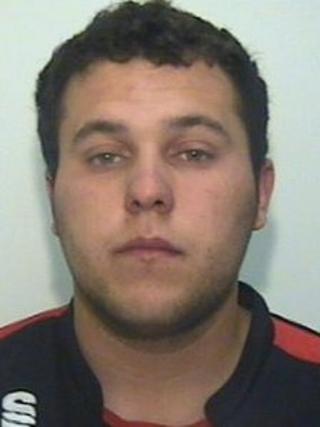 A man from Greater Manchester who attacked a baby girl he was left in charge of has been jailed for seven years.
Paul Jewitt, 23, of Sholver in Oldham, admitted the assault of the three-month-old in July 2011.
He was sentenced at Minshull Street Crown Court in Manchester.
Det Sgt Karen Siddall said police had not been able to work out the motive for Jewitt's attack on a defenceless child.
Police said the mother of the baby first noticed a mark on her child's cheek on 4 July, which Jewitt said had been caused by her banging her face on a toy.
Bleed on the brain
Two days later, another family member noticed bruising around the baby's eyes when the child returned from a stay at Jewitt's house.
Police said hours later, after Jewitt was left in charge of the child while her mother went shopping, the three-month-old started to struggle with her breathing and was taken to hospital.
While in hospital, police said she suffered a number of convulsions and a scan revealed that she was suffering from a bleed on her brain.
Det Sgt Siddall said: "The baby was left with severe head and eye injuries. On top of that, she had fractures to her leg, arm and left with facial bruising.
"It is still unclear as to what effects these injuries will have on her and whether it will affect her vision in the short term or long term."
She added: "The fact that this man could cause the pain he did to a defenceless baby sums up what type of person he is.
"For reasons only known to him, Jewitt thought he could hurt this child and get away with it.
"Thankfully, he was caught and will spend time behind bars so he cannot hurt her again."