Jade Anderson death: Funeral fund-raiser for dog attack girl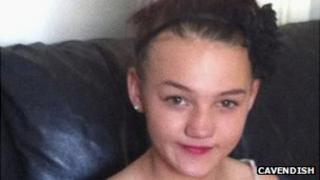 A fund-raising event has been held for the family of a girl who was killed after being attacked by dogs.
Jade Anderson, 14, from Greater Manchester, was found alone with five dogs at a property on Chaucer Grove, Atherton, Wigan, on 26 March.
A funfair, sponsored run and auction were organised and money raised will help pay for Jade's funeral.
Blake Cox, a relation of Jade's, said the family was grateful for the community support.
The funfair was staged at the Dorset Road community centre at the Hag Fold estate, where Jade lived, between 12:00 and 16:00. BST.
Mr Cox, who organised the event, said: "Everyone is trying to do as much as they can, I hope it is going to be a big turnout."
Donna Ellis, who helped with the fund-raiser, said: "We feel we need to come together as a community and also because we are close to Jade's family.
"We need to give her the best send off we can."
Norman Bradbury has lived on the Hag Fold estate for 30 years and said the entire estate was saddened by Jade's death.
"Everybody wants to do everything we can to assist her family," he said.
"It couldn't have haven't happened in a more supportive neighbourhood than here.
"We know it is a deprived area but that doesn't mean to say that all the people don't genuinely all come together and help each other with what little we've got."