Jade Anderson death: Petition for dog owner law change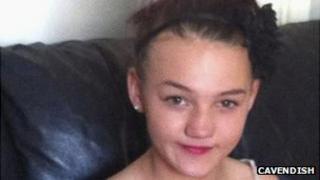 The family of a girl fatally attacked by dogs has launched a petition calling for a change in the law.
Jade Anderson, 14, from Greater Manchester, was found alone with five dogs at a property on Chaucer Grove, Atherton, Wigan, on 26 March.
More than 2,000 people have signed the Justice for Jade e-petition, which calls for the law "to make dog owners accountable".
Police have no plans to prosecute anyone in relation to Jade's death.
The dogs involved in the attack, believed to be two bull mastiffs and two Staffordshire bull terriers, were not illegal breeds.
They were destroyed and a fifth dog was contained at the house.
Spare 'suffering'
The online petition, set up by John Anderson, says dog owners should be made accountable for their dogs on private property, and urges more regulation of "certain" breeds.
It says this would give police the power to confiscate vicious dogs that are unlicensed, "and hopefully we can save other family's suffering like we have gone through".
The petition could trigger a House of Commons debate if it reaches 100,000 signatures.
Last week Greater Manchester Police officers investigating the death said there was no evidence to prove a crime had been committed.
A spokesperson from the force said: "While we do not want to be drawn on the politics surrounding the legislation of dangerous dogs, we are nonetheless bound by the law."