Oldham councillor Tony Larkin sorry for Thatcher death gibe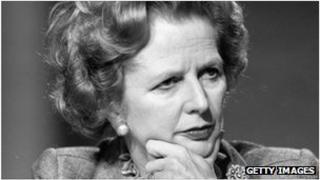 A Labour councillor has apologised for comments he posted online about Margaret Thatcher's death, after he was criticised for being "nasty".
Posting as Cllr Tony Larkin, the member of Oldham Council wrote on an online forum: "Ding dong the witch is dead."
Mr Larkin's comments were criticised as "disgusting" by other forum users.
He said he had later posted an apology for the comments, stating he was "sorry if my comment caused offence".
Oldham Council said it has received a complaint from a member of the public, which it is looking into.
A spokesman said: "In accordance with due process it would be inappropriate for us to comment any further at this stage."
Lady Thatcher, 87, died on Monday, after suffering a series of strokes.
The Conservative was the UK's first female prime minister, in office from 1979 to 1990, winning three successive general elections.
Writing the eRoyton website, Mr Larkin, who represents the Royton North ward, said his initial post had "nothing to do with Labour or Tory, I just could not stand the women and I for one will not mourn her passing".
'Categorically condemns'
Speaking about the post, Mr Larkin said he had nothing more to add to the apology he posted online, which read "I am sorry if my comment caused offence. I did not share her politics but I realise that there are many mourning Thatcher's passing."
Mr Larkin has served two terms of office as the councillor for Royton North, from 1996 to 2000 and from 2003 to the present day. In 2011, he was re-elected to the post, polling 61% of the votes.
He serves on several council committees, including a position of vice-chair on planning, and is a member of the Royton Sick and Needy Fund, a charity which helps people in financial difficulties.
A Labour Party spokeswoman said leader Ed Miliband had "made clear that he categorically condemns any celebration of Lady Thatcher's death".
She added: "As his statement made clear yesterday, she was a huge figure in British politics and on the world stage.
"While we can disagree with much of what she did, we can also greatly respect her political achievements and her personal strength."