Protesters fail to save Arcadia roller rink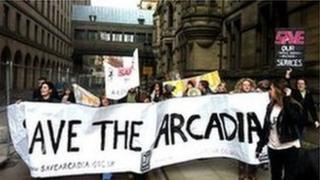 Plans to build a leisure centre on the site of an 100-year-old roller rink in Manchester have been approved by councillors.
About 60 roller-skating fans protested outside Manchester town hall against the decision to build on the Arcadia in Levenshulme.
The new centre will house a swimming pool, health and fitness facilities, dance studio and library.
A council spokesman said alternative roller-skating venues would be found.
Alex Valentine, team captain of the Arcadia Roller Derby team, said the decision was "soul-destroying".
"There were a lot of tears this morning and we are very upset."
She added: "At present we are not aware the council has any plans to build a sports hall where we can play roller hockey or derby.
"However, this is just the beginning and we are putting our energy into doing all we can to save the Arcadia."
'Alternative sites'
Currently the venue offers roller hockey, roller derby, zumba, football, Gaelic football and other activities.
Eamonn O'Rourke, head of community and cultural services for Manchester City Council, said: "We have arranged to meet with representatives of users, including the roller hockey club, and will listen to any proposals they have.
"The bottom line is that we will ensure they have access to appropriate facilities."
A petition was launched by supporters of the Arcadia in April and has achieved over 1,000 signatures.
It called on the council to "look for alternative sites for their development and leave the Arcadia alone".
The new leisure centre will replace the existing swimming pool and library in Levenshulme which the council claims are "outdated and expensive to run".