Bury Council agrees town centre revamp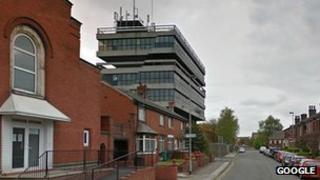 The regeneration of part of Bury town centre could bring investment and job opportunities to the town, the council has said.
Bury Council has approved plans for a major food store on the site of the former police station on Irwell Street.
The site will be marketed to investors with money from the sale being used to fund a new leisure centre at Knowsley Place, said a spokesman.
Council leader Mike Connolly said the plans were "ambitious and realistic".
"This is a fantastic proposal which we hope will bring yet more investment and jobs to Bury, following major developments in recent years," he said.
According to the council, the plans would meet a "long-standing ambition" to redevelop the derelict police station, which is currently being dismantled.
The new food store will only go ahead once a new leisure centre is built at Knowsley Place, opposite the town hall, replacing Castle Leisure Centre.