High Sheriff of Greater Manchester 'backs volunteers'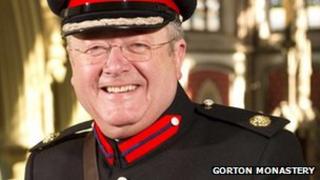 The new High Sheriff of Greater Manchester has said he wants to use his year in the role to "champion volunteering" in the area.
Paul Griffiths said he would working with communities to encourage people to get involved with charities.
He was speaking after taking up the role at a ceremony at Manchester's Gorton Monastery, where he is chairman of the building's charitable trust.
He added that he was looking forward to "a most enjoyable and rewarding year".
The office of high sheriff is an independent non-political Royal appointment for a single year which dates back to Saxon times.