Irlam gas blast fitter fined for breaking safety regulations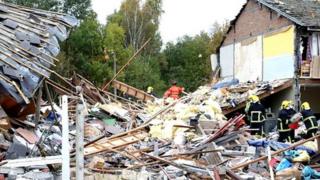 A gas fitter who admitted breaching safety laws over a blast that destroyed three homes, damaged 200 more and injured people has been fined £1,000.
Sixteen people were hurt in the blast in Irlam in 2010 including Marie Burns, 73, who was in hospital for months.
Paul Kay, 31, of Slater Street, Warrington, admitted contravening the Gas Safety Act.
The judge at Manchester Minshull Street Crown Court fined him and ordered him to pay £500 costs.
Kay had been carrying out renovation work on 1 November 2010, the day before the blast in Merlin Road, as part of a project to install new kitchens in several houses on the estate.
'Saw a flash'
Mrs Burns, who lived at the house where the explosion happened, suffered 30% burns and remained in hospital for several months afterwards.
The Health and Safety Executive (HSE), which brought the prosecution, said Mrs Burns went downstairs to make her breakfast at about 07:15 GMT on the day of the explosion and turned her gas oven on.
The next thing she remembered was seeing a flash to the left of the cooker as her house exploded around her.
The HSE investigation found Mr Kay had disconnected the gas supply and moved the meter, leaving it unsupported on a pile of bricks.
Safety experts concluded this exacerbated an existing weakness in the pipe caused by some soldering work carried out several years earlier and allowed gas to slowly seep into the house overnight.
The person who carried out the earlier repair was never identified.
Following the hearing, HSE inspector Philip Strickland said: "The weak connection on the pipes leading to the gas meter meant there had been a risk of a gas leak at the property for several years, and the person responsible for that work would also have been prosecuted if we had been able to identify them.
"However, Paul Kay increased the risk of an explosion when he decided to rest the meter on a pile of bricks, rather than properly securing it to the wall or a raised platform on the floor.
"If registered gas engineers do not meet their legal duties they can expect to be held account for their actions."