Manchester marathon security reviewed after Boston blasts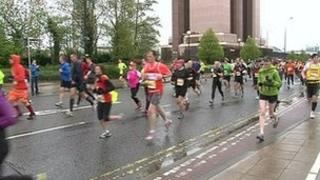 Security around the Greater Manchester Marathon will be reviewed following explosions at the Boston Marathon in the US, police have said.
Two explosions near the finishing line in Boston on Monday left three people dead and at least 140 injured.
A Greater Manchester Police (GMP) spokesman said after the "horrific events in Boston, we will review the plans that we have in place".
The event attracted 8,000 runners last year and takes place on 28 April.
The spokesman said that with "any large-scale event, we always review our security arrangements based upon risk and threat".
The move follows a statement from the organisers of Sunday's London Marathon that security would be reviewed around that event.
About 375 Britons were listed as taking part in the Boston race, but there has been no confirmation of any casualties from the UK.
The GMP spokesman said the force's "thoughts go out to those that were involved in and have been affected by" the explosions.