East Manchester sport and community hub plan approved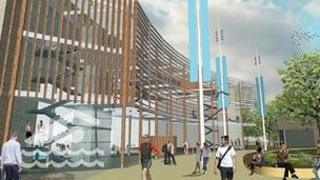 Plans to transform part of Manchester into a sport and community hub have been approved by the city council.
New East Manchester will see the development of a 16-acre site in Beswick.
It will include a 600-place sixth form college, leisure centre with swimming pool and sports research centre.
The site is adjacent to Manchester City's £100m Etihad Campus, an 80-acre plot that will include a 7,000-seat stadium for youth matches.
Jim Battle, deputy leader of Manchester City Council, said the scheme is the "culmination of a lot of hard work" that represents "the beginning of an incredibly exciting future for East Manchester".
The joint venture is between Manchester City Council, Manchester City Football Club and urban regeneration company, New East Manchester.
Work is expected to start on the site later this year.