Stockport woman takes father's ashes to bank in cash row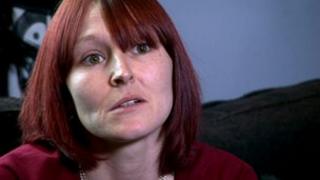 A daughter took her father's ashes into his local bank to prove he was dead, after receiving letters saying he owed the bank for an unauthorised overdraft.
Siobhan Peers, 31, who had cared for her father David, 67, sent a copy of his death certificate to his Royal Bank of Scotland (RBS) branch, in 2011.
However, the branch in Stockport said he still owed £6, which then rose to £600 by this year, with daily charges.
RBS had called in a debt collection agency but has now cancelled the debt.
Two weeks after her father's death on 7 October 2011 from bone cancer, Ms Peers sent a copy of the death certificate to his branch in Davenport.
"I sent a copy and I thought that was it done with, until we got a letter saying he owed £6," she said.
'Ashes on counter'
Despite taking the original of the death certificate to the branch she continued to get letters from the bank and the debt mounted to £619.
In desperation she decided on a new course of action.
"That's when I took the ashes into the bank... I slapped them on the counter, they looked at me as if to say, 'What is she doing?'," she said
"I just wanted them to say sorry and leave me to grieve."
Ms Peers added she told the staff they had to close the account.
RBS said it had to send some mail addressed to customers who are deceased to help resolve personal affairs and that after Ms Peers visited the branch, further information came to light which meant it became necessary to contact her again.
The bank, which had called in debt collectors, apologised for any distress caused and has now closed the account and cancelled the debt.