Robert Jones on journey to meet 700 Facebook friends for charity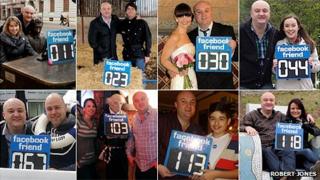 When Robert Jones found out his friend's son had leukaemia, he wanted to raise money for the charity helping to care for him.
To do that, he decided to make an online appeal to the people he knew best - his friends.
The only problem was that in the case of some of those friends, he had never actually met them.
Like many people, the Manchester businessman has people in his friends list on social networking site Facebook that he has not met in the flesh.
He says that he gathered the contacts because he is "constantly on Facebook and over the years have been introduced to people by friends for business and pleasure".
"I met my Polish girlfriend Marlena online after her cousin introduced me and we've been together for nearly three years so it proves the internet is a powerful tool," he said.
That led him to have an idea - why not go and physically meet every one of his 700 online friends and ask them for a donation face-to-face?
As a result, in March 2012, Robert set out on a process he calls Robbing, which sees him visit a friend, have a photo taken with them and collect a donation.
'New friendships'
His journey has already taken him to seven countries - England, Scotland, Poland, Finland, the US, Switzerland and Germany - to meet 123 friends and raise over £3,000 for CLIC Sargent, which supports children and young people with cancer and their families.
Some of those meetings have been with people he has known for years, while others - like the trip he took to Texas to "meet a relation for the first time" - were introductions.
He says the whole thing is "very exciting" and has "opened up a new world for me [in which] I'm discovering new friendships".
He admits that it "could become a very expensive adventure but it's all for a worthy charity" and there is even a chance to include a few celebrities along the way.
Robert intends on visiting his childhood friend, actor Lisa Riley, and is also friends with comedian Justin Moorhouse and Britain's Got Talent belly dancer Sophie Mei, who are both based in Manchester.
However, he says that catching up with his other celebrity friends will require a longer trip.
"The two friends I'm excited about seeing is when I go to Melbourne, where I hope to visit Ramsay Street to meet Ryan Moloney, aka Toadfish, and Alan Fletcher, aka Karl Kennedy.
"I have actually met Ryan before at a Neighbours night, but not had the pleasure of meeting Erinsborough's finest doctor."
Seven down, 23 to go
Australia is not the furthest Robert will have to travel to meet someone - he has two school friends in New Zealand.
In total, he has another 23 countries he needs to visit, with the "most unusual being the Faroe Islands, where I have a dozen friends to Rob".
He says he hopes to complete his challenge "within four years", an estimate he says is achievable by fitting in occasions where he can collect "quite a few in one go".
"I have already done my primary school reunion and I'm planning my high school reunion, college and two university reunions later this year.
"I'm also planning on reuniting my first ever class from when I was a primary school teacher, who were only 10-years-old at the time."
He admits that since he started, he has added a few extra friends to his Facebook account.
However, he says he won't extending his challenge to fit them in.
"I have nearly 800 friends but I am sticking to the original 700," he says.
"I'll only substitute them if I really have to."