Bogus PCs jailed over robberies in Greater Manchester and West Yorkshire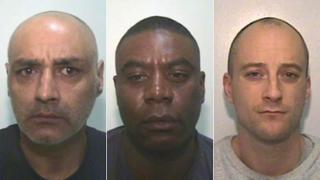 Three men have been jailed after "masquerading as police officers" to handcuff and rob people in their homes.
Paul Thomas, 35, Anjan Ahmed, 45, and Kelvin Raymond, 29, were sentenced at Manchester Crown Court on Friday after pleading guilty to conspiracy to rob.
Greater Manchester Police said their appearance was so genuine that the victims "had no reason to doubt them".
The sentencing follows four robberies and one attempted robbery in Greater Manchester and West Yorkshire .
Police said homes were targeted in Stockport, Leigh and Chorlton-cum-Hardy in Greater Manchester as well as in Huddersfield and Halifax.
Residents reported that men wearing body armour and carrying handcuffs, police warrant cards and walkie-talkie radios had gained entry to their homes.
In four of the cases, the occupants were handcuffed while their homes were robbed.
The thieves made off with a large quantity of cash, firearms with 1,200 rounds of ammunition, a car, and jewellery worth thousands of pounds.
'Convincing façade'
Following their arrests, police recovered a Humberside police warrant card, a stab vest and a handcuff key.
Mr Thomas, of Albert Avenue, Urmston was jailed for nine years, Mr Ahmed of Red Doles Road, Fartown, Huddersfield was given 10 years and nine months and Mr Raymond of Nesfield Road, Northern Moor sentenced to 10 years and six weeks.
Det Con Roy Storey said: "These men went to meticulous lengths to fool people into thinking they were genuine police officers.
"They presented a very convincing façade of respectability which allowed them to commit a series of violent robberies."
He added: "We believe they used a mixture of stolen police badges and equipment, along with the sort of goods that can be bought from high street stores, to disguise themselves and their appearance was so genuine the unsuspecting victims had no reason to doubt them."