Bolton baby death: Girl lived for two hours, says doctor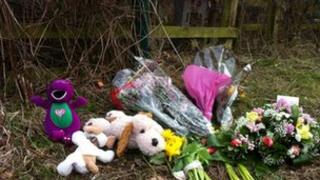 A baby girl found dead in a country lane lived for two hours after her birth, police have said.
The baby, found on 14 March in Lostock by two dog walkers, was named Alia by police after they consulted Bolton Council of Mosques. The name means "beautiful".
Police have released details of two bags and a pair of trousers found with the baby.
A message written in English on one bag requested an Islamic burial for Alia.
Greater Manchester Police said a hospital consultant had established the baby lived for up to two hours after birth.
Alia, who was found in Ox Hey Lane, is believed to have been wrapped in a white shirt and black trousers in a Tesco bag, which was in a JD Sports bag. Neither of the bags is currently in circulation.
'Traumatic experience'
Police said three-quarter length, paint-stained, black, cotton trousers were with the baby's body.
Det Insp Aaron Duggan said: "We have made good progress with the investigation and now know that she was born alive and lived independently from her mother for a short period.
"What we don't know, and what we are trying to establish, is how, where and when she died and when she was placed at Ox Hey Lane and by whom."
He said the force was keen to trace the baby's parents.
"We still need to make sure both Mum and Dad are OK both physically and mentally," he said.
"This will have been a traumatic experience for them, particularly if they are young."
Post-mortem examinations and tests have proved inconclusive.