Duchess of Cambridge launches addiction help scheme in Manchester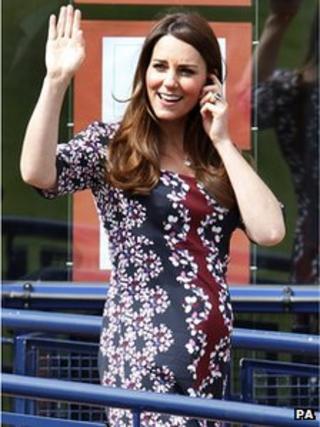 The Duchess of Cambridge has launched a counselling programme aimed at reducing the impact of drug and alcohol addiction on children in Manchester.
Catherine, who is six months pregnant, was greeted by staff, volunteers and children at The Willows Primary School in Wythenshawe.
Pupils presented her with a posy of red roses, and gifts for her dog, Lupo.
The initiative is a partnership between charities Place2Be and Action on Addiction.
The duchess, who is a patron of the two charities, spoke to eight-year-old Kara O'Shea in the crowd.
Kara said: "She asked my name and how happy I was, I felt happy."
The counselling scheme is being piloted in Wythenshawe and also in Tower Hamlets, London, Harlow and Northumberland over the next two years.
Action on Addiction will train, supervise and support Place2Be counsellors to deliver the programme in school settings across England.
'Deeply damaging'
In a speech in the school hall the duchess said: "Addiction is a hugely complex and destructive disease and its impact can be simply devastating.
"All too often, lives and families can be shattered by it.
"But those who are addicted are not the only victims. I have been struck by the profound and deeply damaging impact it has on the children of affected parents.
"My hope is that through this specialist and targeted delivery of care, these children will have the best possible start in life - the one that they deserve."
The programme is also supported by Comic Relief and the Royal Foundation.
Research shows that more than a million children in the UK live in homes where parental drug and alcohol use has a detrimental impact on their wellbeing and education.