Horwich recycling plant blaze tackled by 40 firefighters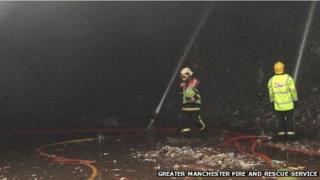 A blaze at a waste recycling plant in Bolton has been brought under control by up to 50 firefighters.
Residents were told to keep their windows and doors shut because of smoke from the Armstrongs plant in Horwich.
Crews were called to the plant on Chorley New Road, at 06:40 BST to reports of burning rubbish.
Station Manager Jon Aspinall, command support officer at the incident, said: "Crews worked hard to contain it to stop it from spreading."
At its height eight fire engines dealt with the fire but this was scaled down to six.
Greater Manchester Fire Service is liaising with the Environment Agency and firefighters are likely to remain at the scene throughout the day
A large fire in a warehouse at the plant in August 2010 caused significant damage.