Dale Cregan 'admitted murders to mother'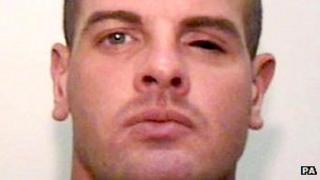 The mother of police killer Dale Cregan has told a court he admitted a murder to her but she did not believe him.
Anita Cregan told Preston Crown Court she spoke to her son after his arrest for the pub murder of Mark Short in Droylsden, Greater Manchester, in May.
Dale Cregan denies killing Mr Short, 23, as well as his father David, 46, who died three months later in a gun and grenade attack at his Clayton home.
Earlier in the trial he admitted killing two police officers.
He is on trial, along with eight other men, for the murders of Mark and David Short.
'Can't live here'
They were killed following a decade-long feud between the Short and Atkinson families and their friends, the court has heard.
When asked if her son had told her who committed Mark Short's murder, Ms Cregan said: "He's told me, yes. He's told me he did the murders.
"I don't believe he did though."
Earlier she told the court she received a knock on the door of her Droylsden home by one of Cregan's co-accused, Francis Dixon, after the murder of David Short.
She said: "I asked him to come in but he wouldn't.
"He just beckoned me with his hand and said: 'Anita we have to go now, Dale has sent me'.
"He said: 'We've got to keep you safe - you can't live here any more'."
Cregan has admitted murdering PCs Fiona Bone and Nicola Hughes last September. He was the the only person charged with those murders.
Leon Atkinson, 35, from Ashton-Under-Lyne, Luke Livesey, 27, from Hattersley, Damian Gorman, 38, from Glossop, Ryan Hadfield, 28, from Droylsden, and Matthew James, 33, from Clayton, all deny murdering Mark Short and the attempted murders of three others in the pub at the time.
Francis Dixon, 37, from Stalybridge, and Jermaine Ward, 24, deny murdering David Short, the attempted murder of Sharon Hark and causing an explosion with a hand grenade.
Anthony Wilkinson, 38, had denied murdering David Short at his Clayton home last August, but changed his plea to guilty.
Wilkinson also admitted possessing a firearm, but denies attempting to murder Sharon Hark and causing an explosion with a hand grenade.
Mohammed Ali, 32, from Chadderton, denies assisting an offender.
The trial continues.