Jade Anderson death: Funeral for girl killed by dogs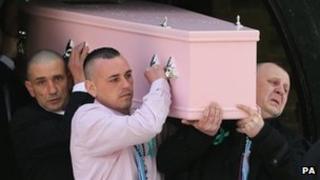 The funeral of a teenage girl who was savaged by four dogs as she visited a friend's house has taken place.
Jade Anderson, 14, was found dead at the house in Chaucer Grove, Atherton, near Wigan, on 26 March.
It is thought she was eating a pie when she was attacked by two Staffordshire bull terriers and two bull mastiffs.
Jade's pink coffin was brought into St Clement's Church in Chorlton, Manchester, as music from her favourite band One Direction was played.
Her mother, Shirley Lomas-Anderson, led mourners into church for the service at 12:00 BST.
Tributes were paid to Jade at the service, including from her stepfather Michael Anderson, who said she was a beautiful girl who "filled a room with joy and happiness".
Her body was then taken by horse-drawn carriage to be buried in nearby Southern Cemetery.
Jade's family had feared they did not have the money to give their daughter a funeral.
But friends and classmates of Jade's at Fred Longworth High School raised several thousand pounds to help her family pay for the send off.
Many of them were at the service to pay their last respects.
Police have no plans to prosecute anyone in relation to Jade's death, as the attack happened on private property.
The Dangerous Dogs Act 1991 means it is an offence to be the owner of a dog that is dangerously out of control in a public place but it does not apply to attacks that take place on private land.
Jade's family are now campaigning for a change in the law.
Some of the mourners at the funeral wore white t-shirts with the words Justice for Jade on the back.
They also included the website address to petition the government for a change in the law over dog attacks.