Dale Cregan verdict: Neighbour's torment over police murders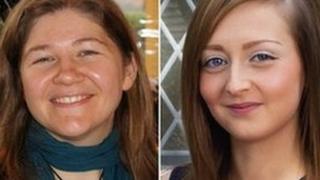 A man who held the hand of one of two women police officers, shot dead by Dale Cregan, in her last moments has spoken of his torment at not being able to help them.
PC Nicola Hughes and PC Fiona Bone were fatally injured in a gun and grenade attack as they answered a bogus 999 call made by fugitive Cregan on 18 September last year.
The man, who wishes to be referred to as 'D', lived close to the house in Abbey Gardens, Mottram where Cregan lay in wait for the execution-style killing.
He recalls instinctively running out of his house on hearing what he thought were "loud fireworks". The scene that met him, he said, will haunt him forever.
'Still alive'
"I could see Nicola and Fiona in the garden," he said.
"I saw Fiona under the window. She wasn't moving or anything. Nicola was near the gate and still breathing; she was still alive."
D said he went to PC Hughes to try to comfort her.
"I knew she wasn't going to live - you could see by her injuries - but all you can say is everything is going to be all right," he said.
He got a towel from a neighbour and put it over her shoulders to keep her warm.
"I told her the ambulance was on its way and everything was going to be okay," he said.
"There's nothing else you can do."
D said he stayed with her until the ambulance arrived which "seemed to take forever" but was probably only a matter of minutes.
He believes PC Hughes was still breathing when the ambulance arrived.
'Tortured by the image'
D had been relaxing at home on a day off from work when he heard the gunshots.
He said: "I got up and looked out of the kitchen window at the back of my house and couldn't see anything.
"Then there were a couple more bangs by the time I'd walked to the front window.
"It was six or seven loud bangs which I thought were loud for fireworks. It was only afterwards I found out they were gunshots."
When he went out of his front door, a neighbour ran up the road saying someone had been shot and to phone the police.
Ignoring his own safety, he ran to the scene of the double murder: there was no sign of Cregan - D just remembers seeing a gun on the floor.
"I had no idea what was going on round me - I was just trying to comfort Nicola," he explained.
He said he had "no idea whatsoever" the shootings would have anything to do with the hunt for Britain's most wanted man, who had been holed up at 30 Abbey Gardens.
At that stage, Cregan was already wanted in connection with the murders of Mark Short and his father David, who had both been killed in separate incidents earlier in the year.
D said he thought the owner had gone away and the house was empty.
"If anyone knew [Cregan] was there they should have told police and none of this would have happened and these two girls would still be alive."
He said he feels "so sorry" for the families of PC Hughes and PC Bone.
"I know how I feel just being there; I can't imagine how they feel," he said.
He said he is tortured by the image of the two women.
"It's never going to go away," he said.
"I've been to Mind [a mental health charity] and talked to them but you can't talk to anyone about it because it brings it back and you end up in floods of tears."