Sir Cyril Smith abuse claims investigation widens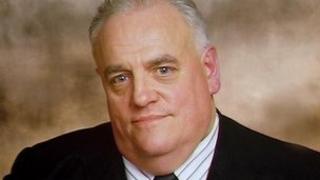 Ten people are being investigated over historical allegations of sexual abuse at a residential school, where it was claimed Sir Cyril Smith abused boys.
Greater Manchester Police said it was investigating the suspects over claims of sexual or physical abuse carried out at the Knowl View school in Rochdale.
Allegations emerged last year that Sir Cyril abused boys on the premises.
Following the revelations, two former pupils came forward and said they had been abused by other people.
Det Insp Caroline Ward, of Greater Manchester Police, said: "The information is being audited at the moment at the council premises.
"We're getting details of all the people that we are interested in and we will be coming out and speaking to those people."
She said the investigation was "alive and ongoing" and said the police would listen to any other allegations.
She added: "Some of the people who have been named as potential offenders may be working in areas where they have access to children and we need to investigate it to make sure we safeguard other potential victims."
'Feel frustrated'
Former pupil Chris Marshall, who claimed he was abused at the school, said he was glad the allegations were being taken seriously.
"It's great to know that someone is listening because it just fell on deaf ears over all these years and it just made us feel stupid," he said.
"It is nice to know they are listening now and something is going to be done."
Martin Digan, former head of care who blew the whistle on allegations at the school in the 1990s said: "At the time it made me very very ill. Twenty years on I can be more philosophical and I can honestly say without wanting to sound like a bleeding heart, I wouldn't have done it any differently."
He added: "I feel frustrated that it took Cyril Smith's abuse across the borough to bring this out."
Rochdale MP Simon Danczuk said he had asked police to re-examine the case after "a number of victims came to see me and raise concerns".
He urged anyone involved in abuse to confess "so that Rochdale and everyone who has been abused can move on".
Mr Danczuk said: "There are few crimes as bad as robbing children of their childhood. We can't underestimate the impact abuse has on their lives."
Last year, the Crown Prosecution Service admitted Sir Cyril should have been prosecuted for abusing young boys in the 1960s.
It was alleged he raped boys at Knowl View and abused boys at Cambridge House Children's Home, a privately-run care home in Rochdale that closed in 1965.
He had a long association Knowl View where he was on the board of management when he was a councillor
Sir Cyril was originally a Labour councillor in Rochdale and later a Liberal then Liberal Democrat MP for the town from 1972 to 1992. He died in 2010 aged 82.