Mosque funeral for baby girl abandoned near Bolton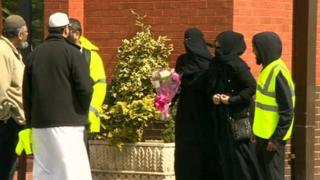 The funeral of a baby girl who was found dead on a country lane near Bolton has taken place at a mosque.
The baby, who was named Alia by police, was found on 14 March in Ox Hey Lane, Lostock, Bolton, by dog-walkers.
A message written on a Tesco carrier bag found with Alia requested an Islamic burial.
The funeral prayers took place at the Zakariyya Mosque, in Peace Street, Bolton, followed by a private burial.
Imteyaz Ali. of the Bolton Council of Mosques said: "It has been emotional for everyone. Anyone who is a parent will understand what they [the baby's parents] will be going through. I think it must be very upsetting."
Earlier in the week Det Ch Insp Sarah Jackson of Greater Manchester Police appealed for the baby's parents to attend the funeral and give Alia "a name that they have chosen", but they did not turn up.
Investigations into the discovery of Alia found that she had lived for two hours after her birth, but the cause of her death could not be determined as post-mortem tests proved inconclusive.
The name Alia, which means beautiful, was chosen with the help of Bolton Council of Mosques.
A spokesman for the organisation, which paid for and arranged the funeral, said there was "help available to Alia's family" to help them through the grieving process.