Tameside Hospital reviewed over death rates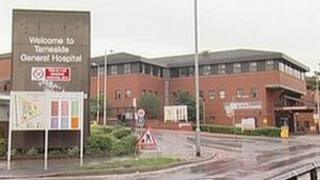 A review of standards of care at Tameside Hospital NHS Foundation Trust is under way after higher than expected death rates.
It is part of the Keogh Review into potential failings at 14 hospital trusts.
It was set up after shortcomings led to hundreds of deaths at the Mid Staffordshire NHS Trust.
The Trust said it is confident the review team will see how committed it is to "providing high quality care".
A team of 22 inspectors will conduct the two-day review.
Christine Green, chief executive of Tameside Hospital said: "The Trust welcomes the additional national focus from the team as it provides for an even greater review of the many complex factors that influence quality and patient safety within the hospital.
"We understand that the review is going to be very wide reaching as it will talk to a cross section of hospital staff, as well as patients and members of the public."
A public consultation has also taken place at Dukinfield Town Hall as part of the review which is led by NHS medical director Professor Sir Bruce Keogh.