HMRC apologises over £1bn tax bill blunder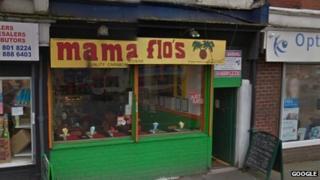 HM Revenue and Customs has apologised after sending a tax demand for almost £1bn to the owner of a cafe in Greater Manchester.
Florence Coke, owner of Mama Flo's in Gorton, was sent a tax bill for £979,092,858 in March.
She said: "When I realised it was nearly £1bn I nearly fell over in the kitchen. I don't even make a wage."
HMRC said it had "put matters right". Ms Coke said she had now received an amended bill of £17,000.
Ms Coke described the original demand for value added tax (VAT) issued by HMRC in Southend-on-Sea, Essex, as "threatening".
It stated it could seize her assets and sell them at auction or arrange for a debt agency to collect payment.
She said: "I was so worried they would come and take all my stuff.
"I work 150 hours a week and I put everything I have into the cafe. I'm not even making a wage but I love it.
'So stressed out'
"I am naive because it is my first time running a business," said the 59-year-old, who set up the cafe in 2010.
"I called them and they denied they sent the tax bill but I told them I am not a mad woman."
Ms Coke said it was made much worse because her mother died and she had to go to Jamaica for the funeral.
"I was so stressed out. I had two major problems and I was worrying about my cafe while I was away."
When she returned from her mother's funeral she received a letter of apology, which she said she had accepted, and a bunch of flowers from the HMRC.
HMRC spokesman Bob Gaiger said: "We are very sorry to hear of the problems our customer has had.
"We can't comment on individual cases but have already contacted her to apologise and put matters right."