Nine Stockport men jailed over cocaine supply ring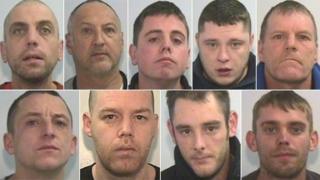 Nine men caught with cocaine with a street value of £680k have been jailed.
One of them, Dave Smith, was said to have directed the others "from above like a set of marionettes".
Smith, 41; Trevor Whitehead, 52; Gary Cantwell, 51; Philip James, 34; Kieran Murray, 26; Craig Ryder, Scott Whelan, Chris Clayton, all 28 and Dixie Dean, 25, admitted conspiracy to supply.
The men, from Stockport, were jailed at Manchester's Minshull Street Crown Court for between three and 11 years.
Police also recovered £530,000 in cash during raids last October.
A Greater Manchester Police spokesman said Smith, who also admitted money laundering and was jailed for 11 years, had been the "key man in the operation".
'Mobile couriers'
He would source "high purity cocaine that would, through a network of safe houses, be adulterated, packaged and ultimately delivered to street dealers and abusers through a well organised network of mobile couriers".
The spokesman said Smith would pass the drug to James and Dean, who received sentences of six years six months and six years, to cut with a dental anaesthetic ready for sale.
Cantwell and Ryder, who were also both given six years six months in prison, would then transport the drugs and money between dealers and Smith.
The pair, along with Whelan, Murray and Clayton, also worked as street dealers, selling the drugs and returning the money to Smith.
Whelan was sentenced to six years six months in prison; Murray to four years six months and Clayton to four years.
Whitehead, who stored money for Smith and pressed the drugs into hard blocks, was jailed for three years.
Speaking after the case on Tuesday, Det Insp Steve Earnshaw said police had worked for "several months with a dogged determination to unravel their activities and establish who the main runners and riders were".
"David Smith was clearly at the top of the tree, operating the others from above like a set of marionettes that he had at his beck and call to do his dirty work for him.
"The stakes that they were playing for brought them high rewards but they now realise that the consequences too are high."