University of Salford announces jobs cut to 'secure future'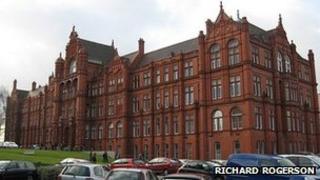 Up to 95 jobs may be cut to "secure the future" of the University of Salford, its vice-chancellor has said.
Professor Martin Hall said it needed to "adapt to becoming smaller" after seeing a reduction in admissions.
Twenty-eight posts will go by September, with another 18 being at risk of closure. A further 49 roles may be cut in the subsequent four years.
Unison spokesman Kevan Nelson said he could not rule out the possibility of industrial action.
In an email to staff, Professor Hall said the "total student admissions in September 2012 were 10% down on our admissions for the previous year".
"Given this situation, we have to adapt to becoming a smaller university [while maintaining] our standards and contribution in learning and teaching, research, innovation and professional enhancement."
He said due to "stronger demand" at the university's MediaCityUK campus, the institution was "well on the way to becoming both slightly smaller and significantly better at what we offer".
'Credible plan'
A consultation into plans to cut 28 roles by September is due to be carried out with staff and students, Professor Hall said.
"An additional 18 roles will also be at risk [and] a further 49 roles may be affected over the next four years as we adjust to changing student preferences," he said.
Both academic and administrative posts will be cut, though Professor Hall said the university would also "plan to create 24 new roles as a result of this exercise".
A spokesman said the university would "work hard to redeploy any staff who could be affected by the changes and take every possible step to avoid compulsory redundancies".
Mr Nelson said the university "continues to resort to job cuts rather than a credible plan to safeguard its future".
"It will not only struggle to regain its reputation amid these regular rounds of job losses, but will find it impossible to regain the trust and morale of its hardworking staff.
"It needs a vision to deal with its current difficulties, it cannot carry on turning to job losses and cuts to staff terms and conditions every time financial concerns arise."