Woman impaled on Fallowfield railings freed by firefighters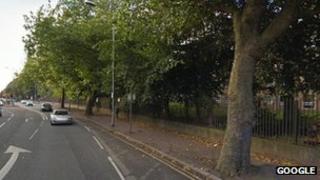 A woman has been rescued by firefighters after impaling her leg on railings in Manchester.
The 22-year-old was found by police stuck on the fence on Moseley Road in Fallowfield at 06:40 BST.
Fire crews called to the scene cut through the railings which were piercing her right calf and she was taken to hospital to have them removed.
Crew manager John Burgess said the woman had "taken a short cut and it went wrong".
He said she had been in a stable condition but was "obviously upset" by the incident.
He added that the police officer who had found the woman "did a good job taking her weight [which] meant there was less pressure on her leg while firefighters cut the railing".