PC Ian Terry death: Officers go on trial over fatal shooting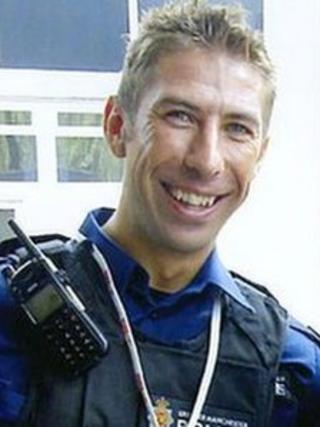 Two officers from Greater Manchester Police (GMP) have gone on trial over the fatal shooting of an unarmed officer on a training exercise.
PC Ian Terry, 32, was killed in June 2008 during police firearms training at a disused warehouse in Newton Heath.
At Manchester Crown Court, the two officers responsible for the training exercise were accused of breaching health and safety laws.
Both officers, who have been granted anonymity, deny the charges.
The court heard that the officers had made changes to the training package without seeking authority or drawing up a new risk assessment.
PC Terry, from Burnley in Lancashire, was carrying an unloaded handgun while playing the role of a criminal fleeing in a car.
The father-of-two, who was not wearing body armour, was hit from a distance of about 12in (30.5cm) by a blank round of specialist ammunition not designed to kill.
The officers, a sergeant and a constable, have each denied one count of a breach of Section 7 of the Health and Safety at Work Act.
The section requires employees to take reasonable care for the health and safety of themselves and others.
The trial continues.