Altrincham £70m regeneration plan revealed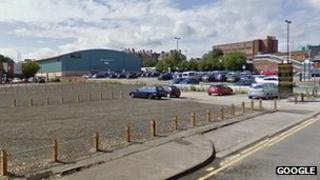 A £70m scheme has been unveiled to regenerate a town in Greater Manchester.
The Altair scheme will see a new leisure centre, shops and restaurants built on a 4.5 acre (1.8 hectare) site in Altrincham town centre.
The proposed development will be located alongside the town's ice rink and a new £19m transport interchange, which is currently being built.
It follows an announcement last year of a £15m makeover for the town's market.
The Altair development will also include the building of 150 new apartments and townhouses.
Trafford Council leader Matt Colledge said the scheme would be a "huge step forward for Altrincham".
He said the plans had been altered from an original proposal because of the "challenging economic climate", which had made the scheme "crucially deliverable".
"It now offers a very complementary approach, with the mix of leisure uses and cafes bringing a much needed vibrancy to the area and will attract families to spend more time not just within Altair itself but across the town centre generally," he said.
If approved, developers Nikal said construction would begin in early 2014.
The company's managing director Nick Payne, who grew up in the town, said he was "excited [to be] breathing a new lease of life into the area".
"I am proud to be delivering such an important scheme for my home town and we aim to be aspirational and show the rest of the country how proud and forward thinking we are in Altrincham," he said.